William Graham (1801-1892), Millwright
Puslinch Historical Society Spirit Walk
June 23, 2014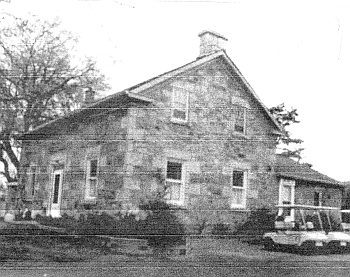 William Graham was born in Dornoch, Sutherland County, Scotland in 1801. His father was also William, and his mother was Catharine Ross according to baptismal records. Dornoch is located on the east coast of Highland Scotland, and today is still a small town of a few thousand. In the 1800's Gaelic was the dominant language of Sutherland County.

In the 19th century, tenant farmers were removed from their holdings throughout Scotland, especially in Sutherland County, under the Highland Clearances policies and forced to live in coastal villages or to emigrate. The Graham family may have been one of the crofters so affected, but we can only speculate, we have no records of the Graham family prior to our William.

We do know that William was a millwright, this appears in several genealogical records. He would have served an apprenticeship of perhaps four years in his early manhood, and would then qualify as a specialist carpenter trained to build watermills and windmills. Thus it appears that his father may have had some means, as there were costs associated with taking up an apprenticeship. This training served him well after he arrived in Puslinch township.

In 1830 William emigrated from Scotland. He was 29 years old. He sailed on the John Molson, landing at Montreal. It's been told that he was travelling with family members, but no record of this has been found as yet. However immigrants often travelled together, so it's quite likely that he was travelling with a relative or neighbour from Dornoch. He may have even known someone from back home who was already here before he left Scotland. Some accounts mention William McKenzie, a blacksmith, with whom he arrived in Puslinch in 1833*.

Like many other immigrants, he was probably low on funds when he arrived in Canada, and would have needed to earn some money for the next stage of his journey to Puslinch because he spent about a year in Montreal before moving on.

A year later, he had got as far as Dundas. He spent two years there, working and saving up for land. It was also in Dundas that he met Margaret Taylor, his future wife. In 1834 William and Margaret got married in St Johns Anglican Church in Ancaster . He was 33, and she was 17 years old.

It looks like William bought and sold land in Puslinch several times, no doubt making a profit from whatever improvements he made and from rising land prices each time. We have several records of land transactions in which William was involved . He was one of the first settlers in Puslinch, in 1833 there were only 538 people here. About 1831-2, he took up Lot 19, Rear of the 7th. in Aberfoyle. ** In the next several years he continued working as a millwright while acquiring land to clear and farm. In 1839 he took up Lot 21, Concession 2, on which 88 acres had been cleared. and in 1840, Lot 22, Front Concession 2, 90 acres of bush, 10 acres cleared.

He helped build the first three sawmills in Puslinch, working as a millwright. One of them was near the residence of "Springfield" owned by James Anderson, the second was the Linderman Mill at Arkell, and in 1834, the third was property he owned in Aberfoyle at Lot 24, Front Concession 8.*** Mill Creek had been dammed by then and provided the power for a mill. He had a sawmill there in the years 1833-5. This is the Aberfoyle Mill operated as a restaurant today.
*p.28 "Settlers of Puslinch" by W.F.McKenzie, columnist for the Guelph Mercury, 1907
**Map of Settlers along Brock. Rd.
*** "Settlers of Puslinch"
By the 1860's Aberfoyle Mill was steam powered. By then, William had sold this mill because when Puslinch Mills in Morriston burnt down in 1861, the owner George McLean bought Aberfoyle Mill from a Mr. Fraser.
In 1839 William bought Lot 13 Conc. 8 from Adam Weir which he owned for the rest of his life . Fifteen acres of this 100 acre lot had already been cleared. The first occupant was Mr. Lowarch, a Welshman, who died after three years living there. His was the first death in Puslinch, and he was buried in Wear's (Weir's?) orchard, which was either on this property or the one next door. . Duff's Church was just getting organized at that time and the cemetery may not have been ready. For a time, superstitious folk avoided passing by on the road after dark as it was said this lot was haunted.*
The lot was north of Aberfoyle. William built a stone cottage and stable, and a frame bank barn and he and his family moved in. ** The Annals of Puslinch tell us that a sawmill operated on that property in the 1850's.*** The house is still standing, part of the golf course now, Number 2054 Gordon Street.
At his death in 1892 William owned the Front halves of Lot 12 and 13 in C.8, 200 acres in all.
William and Margaret had four boys, William, George, Alexander and Duncan, all born about a year apart between 1836 and 1841. In 1844 Margaret died suddenly: the youngest of the four boys was only about three. They had only been in their new home at Lot 13 for five years. With his farm to handle, the sawmill,. and a very young family of four, William was in desperate circumstances. He remarried quite soon after, his new bride was Catherine, or "Connie" McKenzie, she was 30 years old and he was 45 by then.
William was on the Duff's Church Communion Roll in 1844, and it was there that he and Catherine were married in 1846.
Catherine and William had three more children, Murdoch was born in 1848, Robert in 1849, and Catherine McKenzie Graham, in 1856. In his will, he refers to Catherine as his 'adopted' daughter.
In 1856 William's four sons by his first wife, William, George, Alexander and Duncan were 20, 19, 16 and 15 years old respectively. According to a family story, William told these four boys to go north and make their living. He gave them all axes and sent them north to Keppel Township, on Georgian Bay in Grey County which was then opening up for settlement . Murdoch and Robert of the second family, were still at home working on the farm .
In 1871, Williams' wheat crop failed, as did the spring wheat.
In later years, his oldest son William went to Dakota****( but died in Keppel). George and Alexander stayed in Keppel .. Murdoch, the first son of the second family, went to Keppel too, and had a herd of purebred Hereford cattle, a luxury in those days. The second son Robert went either to California, or "the North-West" at some point.
Catherine, Williams only daughter, married Abraham Robertson of Puslinch and had seven sons.
*McPhatter letters, Duff's history, etc, Annals, p.38.
**Annals 1950-1950.
***p.45, Annals
****Duncan's obit
Duncan, the youngest son of the first family bought a farm in Keppel in 1866, but hurt his back in some accident and sold out six years later and returned to Guelph where he became a contractor. He seems to have been particularly accident-prone, for his obituary mentions a broken collar bone, two broken legs , his head cut by scissors falling from the floor above, and a scaffold falling on top of him. He died in 1906 after a fall from a scaffold which paralyzed him from the chest down.
In 1881 William retired and moved into Guelph. He still had his land in Puslinch. He was in good health in his old age. In 1886, at the age of 85, he walked five miles from Guelph to Arkell to record his vote for the Liberal Candidate, Mr. James Innes, a long time friend from Sutherland.
Williams second wife Catherine died in 1888. She was in Keppel at the time of her death at her son Murdoch's, likely on a visit, and had a heart attack. We are not sure where she is buried.
In his will, made out in 1889, William specified that his farm was to be sold and the proceeds dispersed among his sons. At his death, the farm was sold for $5500. It was considered a desirable property, close to town, and with 150 of it's 200 acres under cultivation. Robert,. Murdoch, Duncan and Alexander each got $1000, George got $800, his daughter Catherine Robertson, $200, and William $400.
William Graham died in 1892 at the age of 91 of pneumonia.. He was in good health up until four days before his passing.. He never held public office but was known as a man of good judgment and much respected, honest in all his dealings, according to his obituary. The funeral was held at his son Duncan's home in Guelph, and he is buried in Crown cemetery somewhere in the oldest section, but no stone has been located. Neither his first wife Margaret, nor his second wife Catherine's burial places are known at this time, but no records have been found for them in Crown cemetery..
The other Graham stones in Crown cemetery do not appear to have any connection to this family.
Additional Information from the files of Puslinch Historical Society and Eileen Graham and "West Puslinch Genealogies" by Betty R. Ferguson..
[Back to research menu]